OROMAIRAKI, the resonating sounds of the heavens.
Whatua kā aho o te whare
Whiriwhiria, tuituia, kia tina.
Weave together the strands of the house
Weave them, bind them, and it is done.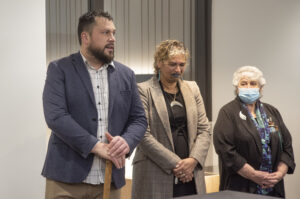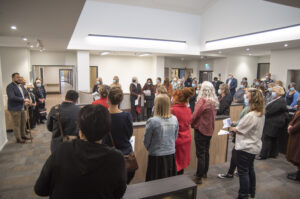 Under the watchful eye of Hineteiwiwa, the principal goddess of te whare pora, the weaving house, the house of creation, we had the absolute pleasure of blessing Oromairaki, the new Maternity Suite at Toka Hāpai, Selwyn Health Hub.  A beautiful and special occasion.  The Rūnanga gifted the name Oromairaki to the CDHB in September last year.  The name references the oro, the sounds of wonder, pain, sorrow, life and death.  They are the sounds which resonate in the heavens and from the heavens – mai i te raki.   Oromairaki celebrates the call of Hineteiwaiwa, the sighs of motherhood and the cries of new life.
Oromairaki and the associated health and dental services are located on the 2nd floor of Toka Hāpai Selwyn Health Hub in Rolleston.  A stunning new facility that both the Selwyn District Council and the CDHB should be immensely proud of.
A huge thank you to Corban, Puamiria, Aunty Marg, Aunty Daph and Te Mairiki for representing the hapū this morning.  An extra special mihi to Toriana for her significant mahi to help shepherd this facility into being and for ensuring that the mana of Te Ruahikihiki led the journey of Oromairaki.  The strands of the whare are woven, the whare is now ready to call in new life. Mauri ora ki te whaiao, ki te ao marama.
Ngā mihi
Puamiria