Please refer to the dates of the roadshows in the image provided.
The Ngāi Tahu Roadshows are important opportunities for us to connect kanohi ki te kanohi with whānau who live outside the tribal takiwā.
These events are a chance for you to meet our teams and leaders, find out how we can support you and your whānau, and an opportunity for you to tell us what you think of our current offerings and what you would like to see from us in the future.
It's been three years since we have been able to gather this way and only fitting that the theme of reconnection has been chosen for these events – reconnecting whānau to your whakapapa, each other, your taurahere rōpū, and Te Rūnanga o Ngāi Tahu.
The Roadshow kīanga (catchphrase) is 'Te Taukaea Takata' which speaks to the intertwining of our people and our iwi to reconnect, revitalise and reaffirm ourselves.
This year, Roadshows will take place in Tauranga, Auckland and Wellington, and next year we will hold one show in Brisbane.
When and Where?
Tauranga – Sunday 28 May 2023 – Tauranga Boys' College
Auckland – Sunday 2 July 2023 – Due Drop Events Centre, Manukau
Wellington – Sunday 2 September 2023 – Lower Hutt Events Centre
Brisbane – Sunday 11 February 2024 – Brisbane Convention Centre, South Bank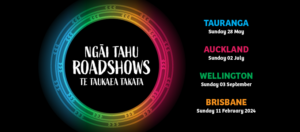 Please ignore the date below.